Virtual Academy Customer Support
Are we able to track our learner's progress at will?
Yes, Learner Tracking accounts are available on our platform for groups with 50+ learners in the system. Learner Tracking accounts will allow the "segment reporter" to run progress reports on all learners affiliated with the organization at will.
We'd like to use this feature. How do we get started?
Once the invoice(s) has been paid, please create an account using an email address that will not be used for learning (for example, learnertracking@domain.com).

We recommend using "generic" user information as this account will not be suitable for learning/completing courses (there will not be access to the Learner dashboard), and in the event that
different administrators will need to run reports.
Learner Tracking accounts can be created using the Create Account link in the Sign In window: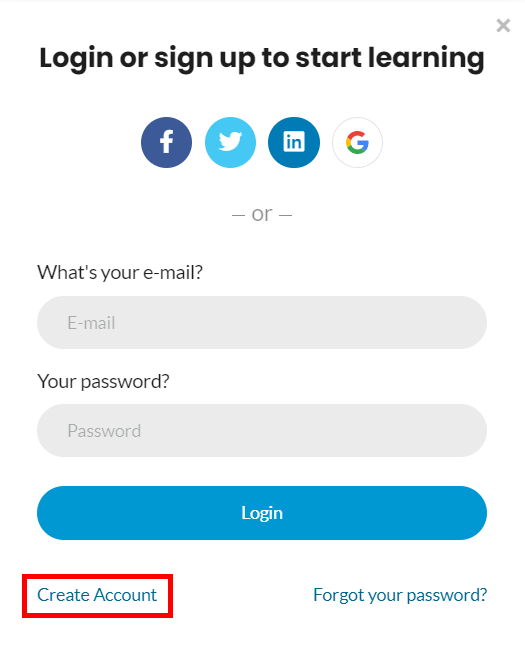 Once the account is created, if you have a set list of approved learners, please send a spreadsheet that includes the details below, and we will enroll the learners. If there will be smaller learner groups, please separate learners by group and specify the group name (Cohort 1, department name, etc.). Upon enrollment, we will add the tracking capabilities to the account.
First Name
Last Name
Email address
Phone Number
Address
Country
Agency name
Website
Region (North America, Europe, Asia/Pacific, South America, or African Continent)
Sector (please choose from the columns below)
Advocate (AD)
Batterer Intervention Provider (BIP)
Child Protection (CP)
Child Protection Attorney (CP JD)
Domestic Violence (DV)
Domestic Violence Advocacy/Women's Sector (DV/WS)
Family/Child Services (FS/CS)
Family Court Attorney (FC JD)
Guardian Ad Litem (GAL)
Judge (JA)
Law Enforcement (LE)
Legal (JD)
Men's Behavior Change/Perpetrator Intervention Services (MBC/PIS)


Mental Health (MH)
Parole/Probation (PP)
Social Worker (SW)
Substance Abuse Treatment/Addiction Services (ADD)
Other (OT)
If more scheduling flexibility is needed or gathering learner details isn't feasible, we can issue a registration link that will allow learners to enroll in the course when they're ready to learn. Learners will have one year to enroll. Once that deadline has passed, we can set up the account to run reports on all enrolled learners.
How do I run a progress report?
Once logged in, you can either click the View user progress button or use the Reports icon and User Progress link in the left-side navigation menu:

Once the page loads, use the available filters to begin viewing learner progress.
If you would like to see how learners are doing in a course, first select the course from the drop-down menu, then click Export user progress.

If you would like to run a report on who has or hasn't completed courses, please select the completion status you're looking to track, and then click Export user progress:

Can we receive automated reports?
Automated reports can be sent on a weekly, monthly, or yearly basis to groups that provide a complete learner list, or where all learners have already registered. Please let us know the preferred frequency of the reports, and who the reports should be emailed to.